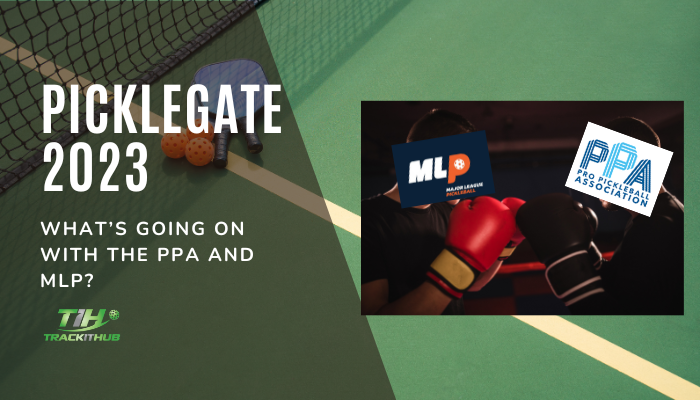 by Kelly Campbell
Everything about professional pickleball as we know it is changing as the sport's first major scandal unfolds. 

News broke a few weeks ago that the previously anticipated merger between the Professional Pickleball Association and Major League Pickleball (the two biggest professional pickleball organizations) was no longer happening – and that there was some bad blood between the two organizations as the MLP began to poach PPA players. Now, there's an evolving feud between PPA & MLP as they battle to sign top players amidst a deal gone sour.

The billionaires that financially back these companies are battling it out and scrambling to sign the biggest names in professional pickleball to their organizations. Contract amounts are breaking pickleball records as the feud grows. This will change professional pickleball as we know it.

Read on to stay up to date on the "tour war" that's currently rocking the professional pickleball world.

Key Players –
Before diving into the details, here are some of the pickleball terms, organizations, and people involved in the feud.
Major League Pickleball – One of the top two professional pickleball organizations. MLP is more team-focused with a franchise model. Notable investors and owners include LeBron James, Tom Brady, and Kevin Durant.

Professional Pickleball Association – One of the top two professional pickleball organizations. The PPA tour has historically been an individual-based touring style competition similar to golf. Ann Leigh Waters & Ben Johns play for PPA.

Association of Pickleball Players – Professional pickleball organization. Although not a part of the initial merger, some APP players were a part of the negotiations that ensued after the MLP/PPA fallout.

Vibe League – The PPA created the Vibe League as a 2022 team competition. The PPA had signed Dylan Frazier and JW Johnson (previously with the APP) to play for the PPA Vibe league (well-known Vibe teams include Arizona Drive and Dallas Pickleball Club)

Steve Kuhn – Founder and Board Chair of MLP

Connor Pardoe – PPA Tour CEO/Founder

Tom Dundon – PPA owner

Julio DePietro – CEO of MLP. Took over for Zubin Mehta (who was previously an integral part of the MLP and PPA merger).

King of the Court – Podcast hosted by Tyler Loong. Hosted Connor Pardoe right before announcements of the deal falling through.

Anna Leigh Waters & Ben Johns – best female and male pickleball players.

Sam Flaxman – Strategic Pickleball Advisor at Top Notch Management as of August 2023 (known as player liaison for PPA). Supposedly was a driving force in signing players over to the MLP for this deal.
Backstory – The Merge of PPA and MLP
The PPA and the MLP have always seemingly had separate visions for professional pickleball and have operated independently. The MLP is a team event, while PPA tournaments focus on individual achievement.
In 2022, the PPA announced the launch of the Vibe league – a team competition that would compete with MLP.
Soon after Vibe's creation, MLP and PPA agreed to merge their organizations. In November 2022, Dundon and Kuhn came to a verbal agreement to operate together as a joint league under MLP's name and format. Although no formal contract was signed, there was a terms sheet.
As part of the merger, four Vibe teams were added to the MLP. PPA players (like Ann Leigh Waters) and teams played under MLP for one 2022 season (under the assumption that they would officially merge in the future).
Things went well and they drafted for the 2023 season. Season two was planned to begin in Atlanta in September 2023 (Connor Pardoe reportedly tells King of the Court podcast in mid-August that they were ready to announce the upcoming season schedule with MLP as part of the official PPA tour stop)
Zubin Mehta resigned in July and was replaced by Julio DePietro. Pardoe claims that Steve Kuhn went radio silent.
Present Day – Falling Out

Despite the deal between the PPA and MLP, and the anticipated merger, MLP announced on August 24th that it began signing top pickleball players to six-figure, multi-year contracts, and would not be moving forward with the PPA/MPL merge.

Owners for both organizations had no idea that these plans were underway as players signed NDAs preventing them from disclosing any negotiations. Owners from both sides found out about these negotiations along with the general public. Not only did MLP break their deal with PPA just weeks before their anticipated season start date, they did so in the middle of a PPA tour and in secret. The general public, owners, and many players were all completely blindsided.

"I don't know what Steve Kuhn's intentions were the entire time," Connor Pardoe told CNBC. "I don't know if he led us down a road to get access to our players to try to be in a stronger position here later."

On the other side, Kuhn told CNBC that there are "numerous misrepresentations of reality" and said, "We asked the PPA to join us in paying players more, and their reaction was that we pay the players too much," Kuhn told CNBC.

MLP contracts are reported to be record-breaking for professional pickleball and include travel and lodging costs, healthcare, increased time off, and exclusivity to MLP in addition to massive salaries. As the drama unfolds, both sides are throwing money around and scrambling to get the best pickleball players to sign with their organizations.

It seems that MLP planned to get such a large number of players to switch to MLP in secret, so it would seem that other players would have no choice but to sign with MLP. The situation has gotten more complex because PPA is not backing down. According to Pardoe, the term sheet – which stated that neither side would negotiate with the other side's players – between the MLP and PPA was violated. PPA's immediate response was to begin signing players on their terms with even better offers than MLP. For both billionaire owners, money is no object, so the figures and offers are truly unprecedented for the sport. Dundon and Pardoe have reportedly offered players up to $100k more per year than MLP. Offers from both sides put on the pressure with time limits to accept and we've already seen players flop from one side to the other as negotiations ramp up behind the scenes.

What's most surprising to us about this whole ordeal is the tumultuous nature of this falling out. It seems like there are new developments daily, and no one knows what players have signed with which organization as offers roll out from both sides. Not only did the MLP break their merger deal (term agreement) with PPA by poaching PPA players, some say they were taken advantage of because they allowed their players to play under MLP in 2022 under the condition that the two organizations would merge.

Because of the sneak-attack nature of the merger collapse, the MLP announced that it had signed at least 30 players, with the majority being previously PPA-exclusive players. PPA has reportedly maintained contracts with Ben Johns and Ann Leigh Waters, which is crucial when you consider their philosophy that their model works best because it allows for individual recognition for and determination of the best pickleball players.

Although we wonder what could've been if the merger between the two largest pro pickleball organizations had moved forward as expected, there are some positive outcomes from the deal falling through. It's a bloodbath between these two organizations, who will likely be enemies for the foreseeable future, but this tour war is creating some incredible opportunities for the players. Professional pickleball players are now being treated as more legitimate professional athletes with greater paydays and benefits. With the amount of money we're talking about, it should be clear to the world that professional pickleball deserves to be taken seriously now. As for the fans, sponsors, and TV deals for both organizations – we're unsure how this move will affect pickleball moving forward.

Following the falling out, PPA has relaunched Vibe. To our knowledge, most players have committed to 3-year deals, and it looks like we'll have multiple competing competitions in 2024.

We'll keep you up-to-date with any notable new developments as we find out more about the new professional pickleball rivalry.

Sources
What in the World is Going On?? | PPA & MLP Feud Explained – Emergency Episode