by Kelly Campbell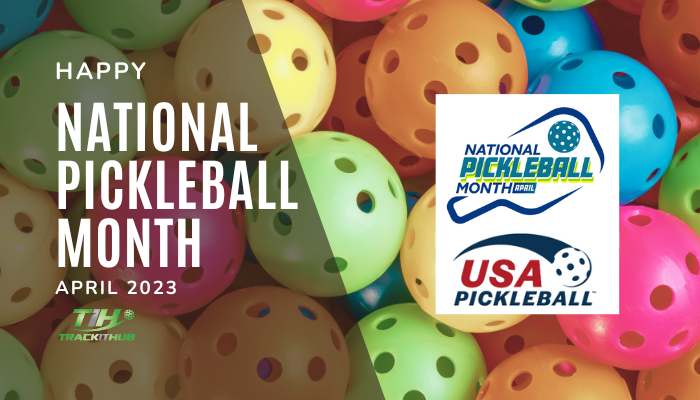 April officially marks National Pickleball Month, and we'll take any excuse to give the sport some extra love and appreciation.

Read on to learn about how National Pickleball Month came to be, upcoming events, and some ways to celebrate.

What is National Pickleball Month?

According to the USA Pickleball Association (USAPA), National Pickleball Month was established in 2018 to promote pickleball by connecting current players and attracting new ones. Throughout April, USAPA uses weekly themes to guide pickleball discussions, promote the sport via social media, highlight the benefits of pickleball, and connect with players by giving out prizes throughout the month.

"National Pickleball Month represents a special opportunity to celebrate the sport of pickleball and everyone in it. It's intended to be fun, connective, and even inspiring—just like pickleball," said Chuck Menke, USA Pickleball Chief Marketing Officer. "As the National Governing Body, we're in a unique position to recognize the countless individuals and groups who come together to form our community and help drive pickleball's unprecedented growth. We also seek to further educate the public about USA Pickleball's role within the sport and the benefits of membership."

USA Pickleball encourages picklers everywhere to get vocal on social media with the hashtag #PickleballMonth, becoming a USAPA Ambassador, donating, or entering to win one of their giveaways.

Here's an overview of some of the thousands of dollars in giveaways the USAPA will give via their corporate sponsors:

APP Mesa Open – 1 Member giveaway per day
Giving away one 1-year USA Pickleball membership per day
Member Appreciation Week – 5 total giveaways from April 16-22
Giving away 5 1-year USAPA memberships throughout the week
HotelPlanner – Hotel Room Sweepstakes
Enter USAPA National Pickleball Month sweepstakes for your chance to win a five-night stay for you and one guest to attend this year's APP Newport Beach Open from June 28 – July 2, 2023.
DayOne Giveaway
Use DayOne promotional code to get a free DayOne Recovery Cream
Sketchers Giveaway
The first 1,200 people that sign up for a USAPA membership in April receive a 20% off discount on Sketchers pickleball styles
USA Pickleball's 2023 Weekly Themes
April 1-8 Why We Love Pickleball – Focus on celebrating pickleball and the pickleball community
April 9-15 Up Your Game – Focus on improving your game and overall performance
April 16-22 Member Appreciation – Focus on celebrating USAPA members and the pickleball community
April 23-30 What's Next/Looking Ahead – Focus on promoting pickleball, pickleball evolution, and upcoming events

Why is April Pickleball Month?

While we're not sure about the official reason for choosing April as National Pickleball Month, it makes sense why the month is a great pick. April marks the first full month of Spring, and with that, beautiful weather. For the most part, no matter where you live in the US, April is a great time to get outside. In warmer pickleball hubs like Phoenix, temperatures are still manageable and cool enough to exercise outside. In colder seasonal areas, like the Northeast, April warmth encourages everyone to dink outdoors for the first time post-winter cold and snow. There are numerous pickleball events and tournaments that take place in April throughout the country. April also happens to be National Stress Awareness Month, and we know that pickleball can help improve mental health and limit stress by encouraging physical activity and socializing with others.

April Tournaments/Events

CityPickle Opens in Central Park
APP Mesa Open
Minto US Open Pickleball Championships
The Pickleball Slam
Alabama Open
USA Pickleball Atlantic Diamond Regional
Legacy Easter Classic
APP Sacramento Open
Dorado Del Mar Pickleball Tournament
New Jersey Spring Open

Ideas of Ways to Celebrate With Friends

Join a New League or Tournament – Utilize TrackitHub's #1 pickleball management platform to find places to play near you.

Go to a Pickleball Entertainment Facility – If you're lucky enough to live near an area that has any spots that merge pickleball and entertainment, definitely take advantage in April. Here are some cool spots to check out across the country:
Plan a Pickleball Vacation – Check out our blog Top 8 Pickleball Vacation Destinations for a list of ideas of pickleball hubs to go to for a pickleball trip.

Sources